The Big Flats Community Center is an extraordinary facility with several multi-purpose rooms, generous restroom facilities, a large catering kitchen, and a Great Room. The building is completely handicapped accessible and available for public use from 8am to 9pm weekdays. The building and grounds are alcohol-free and no animals are allowed with the exception of service animals. Saturday reservations are by appointment only and the Center is closed on Sunday. Call or stop into the Center office for more information and rental rates.
​
Information packets are available in the Community Center office if you are interested in reserving a room or call the Community Center – 562–8443 ext. 303 between the hours of 8am and 4pm
Great Room
---
Capacity 335 (250 seated, 156 at tables). The Great Room is the largest room in the community center and was designed for large meetings or gatherings. Its vaulted ceiling, heated facilities, wood flooring, and many windows make it a comfortable and welcoming space. It has a pull-down screen and facility for slide and Powerpoint presentations. There is also a patio outside the Great Room that has tables with chairs and umbrellas. The patio can only be used in conjunction with the Great Room.
---
Room A (capacity: 25 people)
---
Room A is an ideal meeting place for groups of 25 or less. Rooms A and B can also be used together.
---
Room B
---
Room B can be used for meetings of 5–6 people. Rooms A and B can also be used together.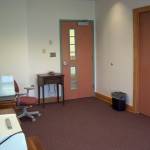 ---
Room C (capacity: 38 people)
---
Room C is larger than Room A. It has a vaulted ceiling, tile floor, lots of light and a sink with counter space and cupboards. It is perfect for crafts, art, or exercise classes.
---
Room D (capacity: 38 people)
---
Room D also has a tile floor and sink facilities. In addition, it is equipped with a whiteboard and training tables making it ideal for meetings and instructional activities. Card groups love this room and it is perfect for small gatherings such as showers or birthday parties.
---
Restrooms
---
The Community Center includes separate facilities for men and women, and there is a family, unisex bathroom as well. All bathrooms are handicapped accessible.
---
The Office
---
The Office is where you will find the Director of Recreation and the Youth Program Coordinator hard at work planning activities for Big Flats residents and their families. Please stop in and say hello to us.
---
Conference Room
---
The Conference Room is a small intimate setting for a meeting or conference. This room is generally reserved for official Town use.
---
Kitchen (instruction and catering)
---
The kitchen is a large room complete with ice-machine, residential appliances (stove, refrigerator, dishwasher, and microwave) lots of counter space, and a very large center island. It is available for use as a classroom or catering kitchen, however complete meals cannot be prepared, cooked, and served.
---
---